2017 Hitting Accomplishments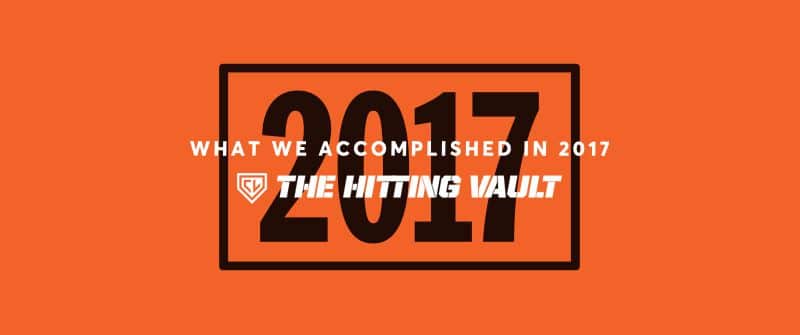 2017 has proven to be a big year for us here at The Vault. Like any good hitter, we've continued to put in work on The Hitting Vault, making it our #1 priority to provide our members with everything they need to unlock their power at the plate.
What's the #1 Power Killer for the Average Hitter?
Take :59 sec Quiz
With 2017 now in the books, we wanted to share with you a few of the accomplishments we've had this year for our growing community:
1. We shot and produced over 80 instructional videos this year!
2. We created SwingFit (with programming from Coach Stav)
3. Now offer Team & Organizational Memberships
4. We published NEXT LEVEL to help families prep for college ball
5. We published GAME DAY to help prep hitters (mental approach)
6. We added Coach Alexa, Coach Stav and Andy to the team
7. Our community donated $5,245 to Hurricane Harvey Relief
8. 98,754 Facebook followers (can you help us hit 100k?)
9. THV Member has multiple HRs in the World Series
10. Successful presence at NFCA and ABCA
At the end of 2017, we asked our members to provide us with a few of their accomplishments over the year. Maybe even brag a little bit and share the successes they've had. We want to thank everyone in our community that took the time to complete our survey and share their successes.
2017 Member Accomplishments at the Plate
"As a coach  and father of a youth player, the greatest accomplishment I had was finding drills that helped the players do more than just swing a bat. High/low soft toss, 123 soft toss, super slo-motion bat swing mechanics, etc."
C. Ryan, Southern California
"As a coach, one of my greatest memories was watching my daughter, Alyssa, go five for five in a HS Tournament and hit three home runs. She tied a Missouri state record for hits, and runs scored. She's also tied for second for home runs in a single game."
Sam Ramirez, Top Gun Academy Fastpitch, Kansas City, MO
"In 2017 I set a goal for our travel fast pitch softball team to increase our tournament batting averages. All the girls improved across the board with tournament averages consistently from 440. – 800. The winter drills really work if you work the system!"
Mike Fusco, Southern Maine Flame Fastpitch, Portland, ME
"2017 was a great year my Little League team was the league champion in summer and fall ball."
Daniel Flores, West Side Little League Baseball, Ft. Worth, TX
"I have had one of the best hitting travel teams for a number of years. My daughter is a .500 hitter that has hit 55 HRs the last 4 years on her 14U-18U teams. My18U travel club team as a whole hits about .323 and last year had a record of 18-4."
Angelo Spadaro, Tigerlillies, Macedonia, OH
"This year I corrected my stance and perfected my launch angle."
Paxton Oliver, Saint Louis Bears, St. Louis, MO
"Started using The Hitting Vault my Freshman Year at Georgia State. My dad stumbled on the web site searching for something to help me build my confidence and get in extra work. The results helped me work my way into the starting line up in 2016 half way through the season and 2017 was even better finishing in the top 5 team hitting statistics."
Remington Hasty, Georgia State Panthers, Atlanta, GA
"Our 11U softball team struggled with hitting throughout our 2016-2017 season, playing against mostly older competition. We started the SwingBuild program with a few of the girls and are already seeing some benefits during the Fall season. We have just started the program with all of the girls for our offseason training, and are excited to see the results."
Mike Williams, Champaign Blue Ice Fastpitch, Champaign, IL
"As a coach, without question, the biggest success was having 10 out of our 11 eligible hitters bat over .300 during our season."
Coach Jette
"My greatest accomplishment in 2017 as a hitter is making the all star team and improving my on base percentage."
Bubba, Show Low High School, Show Low, AZ
"Learning why and how to be more explosive with my swing by simplifying the swing and body movements."
Heimann, Moberly Spartans
"During 2017 I had solid contact, was aggressively selective and a had a solid work ethic that allowed for considerable improvement. During the year I had Multiple Home Runs, and was able to Lead my team in quality at bats."
Sam, MHS, MO
"As a coach, my biggest accomplishment in 2017 was helping the young men reach their potential."
Andy Bayley, PACK Baseball, Midland, TX
"Our team the Empire State Huskies 14u Porcelli qualified to play in both the USSSA World Series in Kansas City and the Futures In Orlando."
Alyssa Bonilla, Empire State Huskies 14U, Walden, NY
"We hit the ball well at nationals and won the 18u USSSA Texas Nationals"
Kevin Kanipe, RGV HEAT, South Texas
"My girls went 19-1, and won 4 Championships, with one 2nd place…a great season for a fun and great team of 12 year old girls."
Pleasant Hill Panhers, Pleasant Hill, CA
"One of my players hit her first three home runs In one weekend. Plus three other players finished the season batting over .400"
Coach Mike, FL
"I play Little League and 12u travel baseball. This year I got better at swinging through the ball and driving it deep into the outfield."
Nate, Burke Bulldogs, Fairfax, VA
"Our team improved significantly with hitting the ball hard to all fields and  being better situational hitters. It was a 12U team that went into the year as a power hitting team only. They became far more complete as an offense."
Alex Hales, Elite Baseball Training, Chicago, IL
"Seeing my hitters reach their goals is always my greatest reward. Making rosters, breaking into the lineup, and improving from a previous season, never gets old for a hitting coach."
David Bradstreet, Bradstreet Hitting Academy, Campbellsville, KY
"I've been a high school coach for 25 years and feel we accomplished a great deal as a staff this past season. Our focus on simplified swing mechanics and establishing individualized mental approaches at the plate unlocked success in our kids."
Steve Simoes, Hopkinton High School, Hopkinton, MA
"After coaching a group of young ladies until they have graduated and continue their love of the game in college, I have started my coaching career over with an 8u team. It has been a joyful yet challenging experience."
Mike O, Nebraska Nemesis, Lincoln, NE
"During 2017 I had one of the best summers hitting that I have ever had, batted .682 with 2 home runs at ASA 14u Nationals and my team finished 3rd."
Katelyn K, Santa Fe Inferno, Jacksonville, FL
"My biggest accomplishment this year was when I went 4-4 in front of a couple college scouts and hit for the cycle!"
Mia G., Corona Angels, Atwater, CA
"I am a coach and seeing one of our athletes hit near .600 w/ an OBP of .750 was incredible. Honestly, my biggest success with him was staying out of his way and not screwing things up! He had a great approach and very good swing already, and knew his swing well."
Coach Harris, Quincy High School, Quincy, WA
"One of my greatest moments was when I hit a walk off home run and I was in a slump. Another one is when I played a tournament in pamona and made a diving play to save the winning run from scoring."
Andrew C., West Long Beach, CA
"Being a member of the Spokane Diamonds that won the 2017 16U-A Western National Tournament and hitting .523 with 5 doubles during the tournament."
Abby B, East Valley High School, Spokane, WA
"The greatest accomplishments are the complete body of work, watching each member of the teams I coach improve. My high school team went 9 and 10, playing with six sophomores. One of the victories was over the #2 team in Fairfax County, VA. My 17U travel team went 30 and 8 and won four tournaments, including three Perfect Game tournaments. My 13u team lost three games during the fall, but, more importantly, made the transition to the 90 ft diamond look very natural. All three teams played excellent team baseball, focusing on throwing strikes, keeping hitters off balance, playing fantastic defense and being team hitters. Even better, the players played the game the right way and loved the environment we created for them to enjoy playing the game."
Bill, Fairfax High School, Fairfax, VA
"Taking a new team who has never played competitive softball to the championship in two years."
Coach Cook, High Point High School, Belltsville, MD
"Having my team hit a round of balls to get a measurement of how far they were hitting at the start of practice. Then we ran through your SwingBuild drills for about an hour. At the end of practice I had everyone hit another round of balls. Everyone looked better and gained a dramatic amount of distance. Being a new member, I am excited to see what the girls can do this coming season."
Gregg Essert, LadyLanders, Cincinnati, OH
"I came through with some really clutch hits for my team. Maintained a .600 batting average."
Jordyn, AIA Athletics, Redmond, OR
"Consistency as a hitter which carried into summer and fall ball playing at high school level for a middle school student"
Jared W., Central Point, OR
"As a father of a 12 year old, I wanted to help my son make consistently hard contact with elevation. With the help of your hitting program, my son had a successful fall ball season, hitting with consistent power. He's the smallest player on a competitive travel ball team and held the clean up spot."
Mark Gonzalez, Alameda, CA
"My goal was to increase extra base hits by hitting the ball harder more consistently. I was able to do this by focusing on some of the particular videos in the vault."
Brett Ringenbach, Ohio Spiders, Cleveland, OH
"Going from not starting the year before to being in the lineup every day. The coach having confidence in me."
Mathew, Toledo, WA
"The continued development through out the season. Seeing kids improve their plate approach and swing making them a real hitter."
Steve Richards, Blue Mountain Community College, Pendleton, OR
"My biggest accomplishments this season was hitting six home runs and had two games with five RBIs or more."
Rachel B, Universal Fastpitch, Petaluma, CA
"My batting average for the 2017 season was .452 and I had 16 extra base hits in 84 at bats. I also had 2 home runs, my on base percentage was .557 and my slugging percentage was .750. My teams overall batting average was .341 and their slugging percentage was .474."
Mackenzie M., North Carroll Hot Shots, Hanover, PA
"My son's greatest accomplishment as a hitter would be continuing to put in the work at practice, even when going through a rough slump for a period of time."
C Banfield, Claremont Little League, Claremont, GA
"I am 14 years old and suffered a small elbow fracture in June which kept me from throwing and playing games in the summer and fall. I used the time off from games to work hard on my swing mechanics using your videos. I'm healthy now and cannot wait to get on the field and show my improvement in 2018."
Michael L., Fox Lane High School, Pound Ridge, NY
"This year I experienced more power and consistency. and had the highest batting average for me ever while playing better competition."
Dave H., Venom, Stanwood, WA
"For the players who fully bought into the system, I saw a CONSISTENCY in their hitting. One of our players (who's a senior and getting ready to leave for college) has simply become one of the most consistent hitters I've ever had. (She completely bought into the system and the results are undeniable!)"
Scott Barker, Case Batbusters, West Hills, CA
"This past year was my senior season and I had one of my best years after subscribing to The Hitting Vault at the beginning of the season. In my best outing of the season I went 4 for 4 at the plate with a grand slam, double, 2 singles and 10 RBI's. I played 3rd base and batted .571 during the regular season. We went on to win our conference and the State Championship. I batted .500 and hit 2 homeruns in the state tournament and also earned first team All-Conference and first team All-State honors, and was awarded my school's Female Athlete of the Year. I earned a softball scholarship at a D-II school in Virginia and look forward to my freshman season."
Casey C., Charlotte, NC
"1st season ever leading team in batting average. During tournament game, hit a triple, a double, 3 RBIs, was intentionally walked and ended up being the winning run! Best season ever!"
Carly K., Storm, Duarte, CA
"As a coach, I understood how to teach more effectively, specifically with the mechanical process of the swing, and utilization of energy from initial movement to and through contact and extension."
Michael Lombardi, The Baseball Center NYC, New York, NY
"Coached a young 10u team using your videos. Established a consistent offensive effort."
Beau, Kalispell, MT
"This year I experienced a big improvement in my mechanics, better mental approach resulting in more playing time and trust from my teammates. From 9th to second in the lineup and from .182 to .320 avg. big year and looking for more with swing fit for this next season."
Juan Carlos Posas, Tiburones, Honduras
"My swing is evolving towards much more effortless power…less movement and more powerful transition through the hitting zone. Achieved more solid contact this season."
Mo Park, Vienna Stars, Centreville, VA
"I have been able to use information like The Hitting Vault to continue to educate myself about baseball. My excitement to learn has spread to other coaches around me. Because we are excited to learn and share, my players, are excited to learn and are getting better because of it."
Steven Finch, Bulldog Baseball Club, Puyallup, WA