3 Basic MLB Hitting Stats that Define a Great Hitter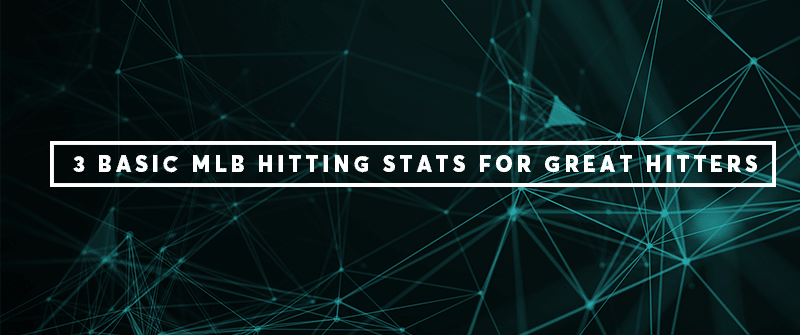 In the world of high school, collegiate and professional baseball and softball, the impact of advanced analytics and "new-age" statistics can't be ignored. More and more,coaching staffs and even players themselves are spending endless hours diving deep into MLB hitting stats and these new statistical reports in order to find an edge.
Wins Above Replacement (WAR), Ultimate Zone Rating (UZR) and Defensive Runs Saved (DRS) are just three of the new advanced analytics that new-age baseball minds crave.
While these fancy names and formulas are great and all, what the heck happened to the "old-school" scorebook you'd religiously keep each game and calculating stats by hand for the post-game box score?
In homage to the simpler days of the game of baseball and softball, The Hitting Vault takes a step back in time in a sense and evaluates what traditional statistics make-up a "great" hitter.
1.) On-Base Plus Slugging (OPS)
With the 2019 Major League Baseball season at the official halfway point, only SIX (!!!) players currently possess an OPS of 1.000 or better. Let me repeat that.
Six out of the 750 current players on the active MLB rosters can claim that impressive statistic on their resume. That's 0.008 percent of the entire league. Unbelievable.
Who are those current six players you ask?
Christian Yelich (OF, MIL)
Cody Bellinger (OF, LAD)
Mike Trout (OF, LAA)
Josh Bell (1B, PIT)
Charlie Blackmon (OF, COL)
Pete Alonso (1B, NYM)
Let's see. In the six players listed above, they collectively possess three MVP awards, 18 All-Star Game appearances, 10 Silver Slugger awards, two batting titles and two Rookie of the Year honors. Is that good? No, that's GREAT.
Mike Trout, almost unanimously viewed as the best overall player in MLB, has paced American League hitters in OPS in four of the past five seasons. So does an outstanding OPS equal a great hitter? There's NO doubt about it.
2.) On-Base Percentage (OBP)
Calculated by taking a batters' hits, plus walks, plus hit by pitch, divided by a batters' at bats, plus walks, plus hit by pitch, plus sacrifice flies. In short, OBP presents an outsider at what clip does a batter successfully reach base.
Looking back at the 2018 campaign in MLB, your American League MVP Mookie Betts (OF, BOS) and National League MVP Christian Yelich (OF, MIL) ranked second and fifth in the majors, respectively, in OBP. Think that's important in evaluating a great hitter? Absolutely.
Okay, okay. These recent sample sizes are great and all, but how does an "old-school" stat like OBP hold up when looking at historically great players? We're glad you asked!
The top-10 all-time OBP leaders in MLB are as follows:
Ted Williams (.482)

Babe Ruth (.473)

John McGraw (.466)

Billy Hamilton (.455)

Lou Gehrig (.447)

Barry Bonds (.444)

Bill Joyce (.435)

Rogers Hornsby (.434)

Ty Cobb (.433)

Jimmie Foxx (.428)
When looking at the above list, the first thing that jumps out is how many true LEGENDS of the game there are. Players that can be recognized by simply their last name: Williams, Ruth, Gehrig, Hornsby, Cobb, Foxx.
So, does a high OBP help your cause for becoming a great hitter? You better believe it!
3.) Total Bases (TB)
Calculating this traditional statistic is pretty simple. For each hit, the batter is credited with a weighted value. A single equals one, double equals two, triple equals three and a home run equals four.
For example, let's say Mike Trout on a Sunday afternoon went 3-for-4 with two doubles and a home run. In the post-game box score, he'd be credited with eight total bases (two, plus two, plus four).
Let's quickly go back to the 2018 MLB hitting stats leaders. Your NL and AL MVP winners (Yelich and Betts) ranked tied for second and seventh in the league, respectively. Your overall leader in total bases, OF J.D. Martinez from the Boston Red Sox finished fourth in the AL MVP race and was named a silver slugger. That's pretty darn good, right?
While hitting singles are great, a batters' ability to hit for extra bases can be crucial to your teams' scoring ability. This translates to both the sports of baseball and softball.
For example, a season ago in MLB, 2B Ben Zobrist from the Chicago Cubs ranked 11th in the majors with his .305 batting average. While he tallied 139 total hits, only 40 of those went for extra bases (29 percent). In contrast, your MLB leader in total bases, J.D. Martinez, saw 82 of his 188 total hits go for extra bases (44 percent).
With all due respect to Zobrist, with the game on the line and your team is looking for the "big" blow at the plate, which batter would strike more fear in the opposing manager? Zobrist or Martinez?
Total Bases (TB) in Softball
This comparison is arguably even more impressive in the world of softball. In the recent 2019 NCAA Division I Softball campaign, a high majority of the nation's batting average leaders are commonly referred as "slap hitters". In short, these hitters are up to bat and looking to utilize their exceptional speed and simply put the ball in play.
Another example you say? You got it! OF Lexi Watts (University of Illinois-Chicago) ranked second in the country with her outstanding .477 batting average. However, only 11 of her 83 total hits (13 percent) went for extra bases. What about the nation's leader in total bases, since this is the subject at hand after all? INF Sydney Romero (Oklahoma) produced a whopping 176 total bases (48 singles, 18 doubles, four triples and 20 home runs).
Again, going back to the MLB hitting stats reference of who would strike more fear between Zobrist and Martinez, would head coaches want to face Watts or Romero in the biggest moment of the game?
---

The Hitting Vault is the most popular, most trusted and highest rated online hitting community.
It was created to teach athletes how to move their body to unlock their most powerful swing. It's designed to help coaches get optimal results from their athletes. Join and get access to over 100+ exclusive videos for members and step-by-step instruction so you'll know exactly what to do next to unlock your power at the plate.