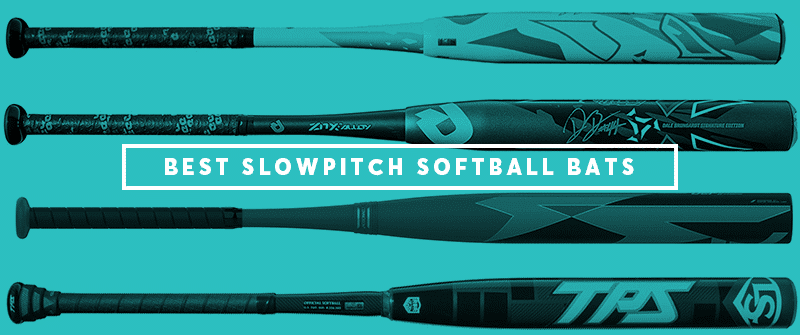 Best Slow Pitch Softball Bats for 2020
When it comes to shopping for sporting goods online, few things have become as complicated as simply selecting a slow pitch softball bat.
Space age materials, proprietary formulas, a range of prices and an alphabet soup of governing bodies that decide what is and isn't legal can turn a fun experience into a tedious slog.
Fortunately, we're here to help.
The right swing with a good bat can't go wrong, so in this buyer's guide we'll run down everything you need to know and review some of the best slow pitch softball bats for 2020.
What to Look for in a Slow Pitch Softball Bat
Choosing the right bat depends on knowing what you're looking for. First and foremost, that means understanding yourself as a hitter. Are you a big, strong power hitter trying to generate maximum leverage? A faster middle infielder who's good at legging out ground balls? Or do you want to drive the other team crazy by hitting 'em where they ain't thanks to your superior bat control?
Consider one of the first maxims in Ted Williams' classic book, The Science of Hitting: "Hitter, Know Thyself." It will make decisions about length, balance point, bat weight and composition that much easier.
Types of Slow Pitch Softball Bats
The vast majority of bats can be defined along three different parameters: design, construction, and materials.
Design
Bats tend to come in one of two styles that describe the way the bat is put together.
One-piece bats use the same material throughout the bat, and the entire assembly is just that: one piece of material. These bats tend to be a little stiffer and more durable, and are generally good for power hitters seeking stiffness and more direct energy transfer to the ball.
Two-piece bats consist of a separate handle and barrel that are bonded together. This allows the bat to flex more during the swing, enhancing the trampoline effect at contact. The flexible construction offers the added benefit of dampened vibration, which means less sting should you hit a cue shot down the line.
Construction
Modern bats have either single-wall or double-wall construction within the barrel.
Double-walled bats have an enhanced trampoline effect, as the outer wall flexes before being reinforced by the inner wall (which creates a potent energy transfer to the ball). For this reason, they've been prohibited by many leagues, so check with yours before making a purchase.
Materials
The materials used in the bat will have a large impact on its performance and lifespan.
Alloy bats are made of aluminum mixed with another metal in order to create thin, responsive walls. Almost all one-piece bats are made of aluminum or an aluminum alloy. These tend to be the cheapest option, but are also the most durable.
Composite bats are made from a mix of carbon fiber, graphite, fiberglass or even Kevlar. They rely on the flexibility of these materials to enhance the trampoline effect of the barrel. Keep in mind that composite bats have a break-in period before you can get the most out of the material, and they die out sooner than an alloy since the flex durability of the barrel declines over time.
Wood is the material of choice for a traditional league or the true hitting artiste. While they don't offer the same pop as today's top-of-class composite bats, they do provide a feel and hitting experience that no alloy or fiber synthetic fiber can match.
How to Choose the Right Size
Since almost all slow pitch softball bats are 34 inches long, weight is the primary decision a hitter must make in choosing bat size. While a stronger player can generate more force by using a heavier bat, lighter bats in the 26 to 28 ounce range are better suited to average-sized players or those seeking better bat control.
Besides weight, a bat's balance point is another key consideration. Players generally have two options on that front:
Balanced bats have the weight evenly distributed throughout the barrel and are generally easier for the hitter to control.
End-loaded bats feature an extra half ounce of weight or more near the cap at the end of the bat, which helps generate greater centrifugal force to the point of contact. Because the weight is farther from the hitters hands, however, end-loaded bats are slightly more difficult to control.
We wrote an entire post about choosing the right softball bat, which you can read here.
Slow Pitch Softball Bat Regulations
There are five major governing bodies for slow pitch softball:
USSSA and USA Softball are the two largest organizations among that group, and issue separate "stamps" to manufacturers to signify that a particular bat has been approved for play.
Regardless of your league's governing body, all slow-pitch softball bats must adhere to the following:
Have a 2.25-inch barrel diameter
Be 34 inches or shorter
Weigh 31.5 ounces or less. (26 to 30 ounces tends to be the standard weight range.)
State federations and local leagues often set their own rules about what bats are allowed or disallowed, and you should make sure to know about any such "house rules" before making a big investment.
Best Slow Pitch Softball Bats for 2020
When choosing our Top 5, we considered factors such as cost, durability, performance and versatility. Each of the bats on this list provides a solid mix of those attributes.
1. DeMarini Juggy
DeMarini's classic juggernaut model returns for 2020, featuring a ZnX Alloy handle for increased stiffness and durability and ultra-soft compression for a game-ready feel right off the shelf. Designed in partnership Dale Brungardt ⁠— one of competitive slow pitch softball's top power hitters ⁠— this end-loaded bat has a 12-inch barrel length and is ideal for players who want to squeeze the absolute maximum distance out of every moonshot.
Approved for: ASA/USA Softball
Design: Two-piece with an alloy handle and a composite barrel
Barrel length: 12 inches
Weight drop: 34/26, 34/27, 34/28
MSRP: $279.95
2. DeMarini Dale Brungardt Signature (Continuous Fiber)
This bat is a rework of the DeMarini Nautalai, which was released in 2019 and took the slow-pitch world by storm. It features additional mass in the barrel (a boon if you're strong enough to swing it), and a continuous fiber design for maximum durability.
Approved for: ISA, NSA, USSSA
Design: Two-piece with a ZnX alloy handle and a continuous fiber composite barrel
Barrel length: 13 inches
Weight drop: 34/26, 34/27, 34/28, 34/29
MSRP: $279.95
3. Easton Fire Flex IV
The 2020 edition of Easton's flagship Fire Flex model comes in a variety of configurations to match your swing style, including balanced, mid-loaded, loaded, and extra-loaded. Each of the three loaded versions comes with a 13.5-inch barrel, while the balanced version has an ultra-long 13.75 barrel.
Approved for: ISA, NSA, USSSA
Design: Two-piece with a composite barrel
Barrel length: Loaded: 13.5 inches; balanced: 13.75 inches
Weight drop: Varies by model
MSRP: $299.99
4. Lousiville Slugger TPS Power Load
Working with Jeff Hall, Louisville Slugger reimagined its popular TPS model for the 2020 season, adding a newly developed energy recovery system that aims to deliver maximum impact every time you connect. The bat features one of the brand's thinnest shells ever, which results in an ultra-light (and thus easy to swing) stick that still features an extra half-ounce of end-loading. The TPS is meant to come out of the wrapper hot, but some early testers have noted that it takes up to 100 swings before it feels game ready.
Approved for: USA Softball
Design: Three-piece with a (removable) tapered handle and a composite barrel
Barrel length: 13 inches
Weight drop: 34/25.5, 34/26.5, 34/27.5
MSRP: $249.95
5. AXE Bats Avenge Blackout
AXE bats feature a special handle designed to help you get into the proper hitting position at contact (read more about it here). The 2020 edition of the Avenge Blackout features a slightly smaller version of that handle, meant to better accommodate slow-pitch players' sometimes unorthodox grips. The bat features a carbon fiber composite barrel, which is renowned for durability but may lack a little bit of the pop offered by thinner-walled options. That said, this is an ideal choice for relatively casual players who want something that will hold up over the course of multiple seasons. Plus, it's approved for use by all the major governing bodies.
Approved for: ISA, ISF, NSA, USA Softball, USSSA
Design: Two-piece with an axe handle and a composite (carbon fiber) barrel
Barrel length: 14 inches
Weight drop: 34/26, 34/27, 34/28
MSRP: $299.99
Other Great Slow Pitch Bats
These bats didn't make our Top 5, but they're some of the most popular and proven models on the market:
Easton Salvo: A single-piece composite design with a 13.5-inch barrel, the Salvo is a discontinued mid-range bat praised for its combination of pop, durability and price. You can still find both the balanced and end-loaded versions at various retailers.
Miken Freak: The Miken Freak uses a two-piece composite design and comes in a wide range of balances, including "X Maxload," which features an extra half-ounce of end-loading. Freak-series bats have a 12-inch barrel, with weights from 24-28 ounces.
Miken Izzy Psycho: First manufactured in 2015, the Miken Izzy Psycho was re-released in 2019 with the exact same materials and specifications as the original model. That it was brought back by popular demand should tell you something about its quality: despite four years of improvements in technology and innovation, this one-piece composite bat with a full-ounce of end loading is still noted for its durability and being hot right out of the wrapper.
Best Slow Pitch Softball Bat Under $100
Your options are limited when it comes to budget slow pitch bats, as Easton is the only major manufacturer to offer models priced at less than $100 (the Rival, the Rebel and the Hammer). It should go without saying, but you won't find advanced materials and innovative designs in those three models — choosing them means you're sacrificing performance for price.
How much of a difference will it make on the field? Just like no pair of sneakers will make you jump higher, no softball bat will magically transform you into a better hitter.
What a more advanced bat will do is help you get the maximum effectiveness out of your swing. The bats in the list above have big sweet-spots, which means they'll be more forgiving when you slightly mishit a ball. And they have more "pop" (often as a result of their super flexible space-age materials) which means they'll do a better job of transferring the energy you generate via your swing into the ball.
So, if you're someone who consistently hits the ball 15 or 20 feet short of the fence, a more expensive bat might translate into more dingers. But if you're a more casual player who is still working on their swing and doesn't hit many (or any) home runs, the difference between these two classes of bats will be less palpable, and you may do just fine with a cheaper option.
There are many solid choices between $100 and $200. But if your budget is absolutely locked in at $100 or less, the Easton Rival is easily the best option.
Easton Rival
A one-piece, aluminum alloy (end-loaded) bat with a surprisingly big sweet-spot and great reviews from players. It features a 12-inch barrel that's easy for players of all ages and skill levels to control and swing with speed, and it's approved for play by all major organizations. A durable, low-cost option that will last multiple seasons.
Approved for: ISA, ISF, NSA, USA Softball, USSSA
Design: One-piece aluminum alloy
Barrel length: 12 inches
Weight drop: 34/26, 34/27, 34/28
MSRP: $88.99
Frequently Asked Questions
Here are some of the most commonly asked questions about slow pitch softball bats.
What is the difference between slowpitch and fastpitch softball bats?
The biggest differences are length and weight. Fast-pitch bats tend to be shorter and lighter (prioritizing bat speed and barrel control over mass), whereas slow-pitch bats are designed for maximum leverage and impact at contact. Aside from that, they're similar in terms of materials, technology and construction.
Can you use fastpitch bats in slowpitch softball?
If your fast-pitch bat is stamped with the certification for the league you're playing in (and doesn't appear on that league's banned bats list), you can use it. Keep in mind that state and local leagues often have their own bat rules and regulations, which can be stricter than those set by the national governing body.

However, you might not want to. Fast-pitch softballs and slow-pitch softballs have different COR values and compression levels. COR stands for coefficient of restitution, and essentially describes how much energy the ball retains at impact (i.e., how bouncy it is). Compression describes how hard the ball is. 

An NCAA fast-pitch softball has a COR of .44 and a compression score of 400. By contrast, a regulation USA Softball slow-pitch ball has a COR of 52 and a compression score of only 300. In other words, the slow-pitch ball is softer and bouncier. 

While a fast-bat bat and a slow-pitch bat might be made from the same material, manufacturers' fine-tune their products to perform best when hitting a particular type of ball. 

Also, it's important to note that hitting a slow-pitch ball with a fast-pitch bat is primarily a performance issue: the bat is smaller and lighter (less mass), and wasn't designed for low-compression balls. But hitting a fast-pitch ball with a slow-pitch bat is a durability problem, because their thin walls can break when making contact with the harder ball. 
Does a heavier softball bat hit farther?
All other factors being equal, a heavier bat (more mass) will hit the ball farther. However, that's only true if you're able to swing a heavier bat at the same speed as a lighter bat. Additionally, using a bat that's too heavy can cause your mechanics to break down, leading to an inefficient sequence of movements. Your goal should be to find a balance between size and speed: you want the heaviest bat you can swing correctly. You can read more about choosing the right size softball bat here.
---
Surprised to see a post about slow-pitch softball bats on The Hitting Vault? While it's true that our resources are used by elite hitters at every level of baseball and softball (all the way up to MLB), many of our members are everyday ballplayers who — even though they have no illusions of going pro — still want to reach the absolute pinnacle of their potential.
Click here to learn how The Hitting Vault can help you unlock your power at the plate… even if your goal is just to impress your coworkers in your local beer league.

The Hitting Vault is the most popular, most trusted and highest rated online hitting community.
It was created to teach athletes how to move their body to unlock their most powerful swing. It's designed to help coaches get optimal results from their athletes. Join and get access to over 100+ exclusive videos for members and step-by-step instruction so you'll know exactly what to do next to unlock your power at the plate.