30 Books for Baseball and Softball Coaches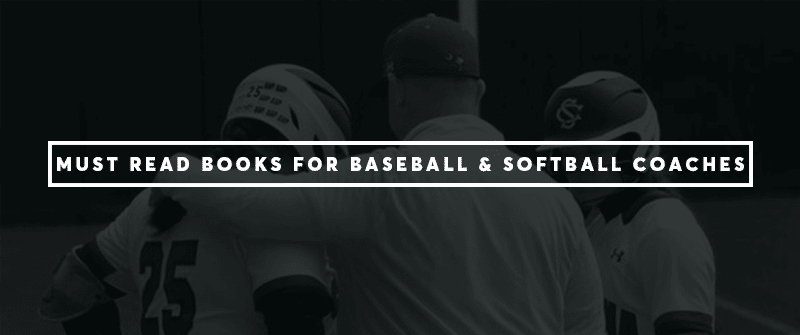 I get asked frequently what it takes to be a great coach, and I can honestly say there is no real answer to this. At the end of the day, our goal as coaches is to make a difference for the student athletes that you have the opportunity to coach.
But if I had to give one piece of advice to coaches, it's to always have a growth mindset.
I can promise you that no coach knows everything, and the best coaches are always striving to improve no matter what level they are at.
As coaches, one of the best paths to success is reading (or listening) to books. When new coaches ask me where to begin their learning process, I always start by telling them to read books. See below for my list of book recommendations that have had an impact on my career.
Recommended Reading List for Coaches
Legacy by James Kerr
This book explores one of the worlds most successful sporting teams, The All Blacks of New Zealand. This book reveals 15 powerfuls secrets on leadership that are sure to help any coach or leader.
Go behind the scenes of the organizational culture and team that Ed Katmull was able to build at Pixar. This book provides great lessons on leadership and management philosophies that helped build the culture at Pixar.
This is an awesome read that takes you behind the lines for the Chicago Cubs legendary World Series run in 2016. Learn how general manager Theo Epstein and head coach Joe Maddon took a group of young players way past expectations by focusing on the mental side of the game just as much as the physical.
Urban Meyer is one of the best coaches in college football history. He seems to win anywhere he goes. This book provides a deep look into the philosophies on team culture and bringing teams together to achieve a common goal. Learn real life examples of how to turn setbacks into learning experiences and the foundation behind Meyer's championship run at Ohio State.
In this book, Ryan Holiday studies some of the most successful people in history and how they turned their trials into triumph. This is a great read for anyone looking to turn a period of adversity into their biggest breakthrough.
Learn how some of the most successful people in history have moved away from the approach that success relies on outside influences. Ryan Holiday studies several successful people in history that have taken control of their lives and not let outside influences dictate their destination.
This is a great story about a young boy who chases after his life long dream. He realizes along the way that his fiercest competition is eliminating doubt and conquering the man in the mirror. Eliminate doubt, and conquer your competition through practice and repetition.
Augie provides his foundational principles that he learned both as a professional baseball player and head coach at the Division I level. This is a great read for anyone looking to seize the opportunities that life throws at them, also a great foundation for teaching life lessons through the game of baseball.
A great to take a deeper dive into the analytics in baseball. Keith debunks some of the most famous stats in baseball, and also takes a closer look at the new stats that are starting to dominate the game. This is a great read for anyone that is looking to understand the big data push that we're seeing today in the game of baseball.
This book studies the 2013 Pittsburgh Pirates and how they adopted big data strategies to turn around their organization. While battling through the longest losing streak in North American sports history, this book covers how the Pirates adopted a culture of creativity and collaboration to turn things around.
Mindset by Carol Dweck
World renowned Stanford psychologist Carol Dweck dives deep into the concept of a growth mindset. Great read for leaders looking to implement a growth mindset across their team or organization.
Former trainer for all time great athletes like Michael Jordan, Kobe Bryant and Dwayne Wade. Tim S. Grover describes the approach he uses with his athletes to achieve total physical and mental dominance on the field and in life.
Learn from one of Coach Wooden's most legendary players on how John Wooden had a lifelong impact in his life. Kareem Abdul Jabar tells the story of his over 50 year friendship with Coach John Wooden and what made Coach Wooden one of his dearest friends.
Prior to his passing, Bill Walsh sat down for a series of interviews to discuss his philosophies on leadership. Walsh provides direct advice on leadership that he used to turn the San Francisco 49er's from a bottom feeder in the NFL to one of the most successful dynasties in NFL history.
The Matheny Manifesto provides great insight into Mike Matheny and his take on parents, coaches and athletes in youth sports. Matheny's 7 page letter was a viral sensation due to his hard nosed approach to youth sports, and this book expands on that greatly and is highly recommended for anyone involved with youth sports.
Coach K is a legend not just in basketball, but in coaching for any sport. In this book, he covers his philosophy on leadership and how you must earn it with your team. This is a must read for anyone interested in leadership and the steps need to take your organization or team to the top.
This book provides a great look into the leadership practices of John Wooden. Focusing mostly on his 12 lessons in leadership as his pyramid of success, this is a great read for coaches who want to become great leaders and develop a path to success for their teams.
Tony Dungy is one of the most successful professional football coaches of all time. His unique approach to coaching and earning the respect of his players helped propel his teams to championship heights. Take a glimpse inside of the man that is Tony Dungy and see how was able to accomplish success as a football coach without compromising his fath and beliefs.
This is a great read for coaches looking to improve communication and buy in with their players. Learn how to improve relationships, and culture with your athletes with several examples that Brett has used to train championship athletes in many different sports.
This book covers the remarkable story of Pat Summit, and how her resilience came to the light when she  was sparked with her most difficult challenge.
This book provides great insight into legendary basketball coach Dean Smith and how he lead his teams at the University of North Carolina. With several examples on his philosophy for leadership and building winning teams, this is a great read for any coach at any level.
The Team Captain's Leadership Manaual provides very actionable advice to groom the  leaders on your team, as well as yourself. The book details a prove 10 week leadership development program that can be applied to anyone in a leadership position.
This book was written specifically for sports coaches. It provides an actionable advice and proven strategies on how to build a championship program at any  level.
This book provides great insight into Coach Paul Bear Bryant and his methods on leadership. The authors interview over 200 former players,coaches and media members that spent a lot of time around Coach Bryant. Learn what made Coach Bryant so successful and his philosophies on leadership.
Legendary football coach Jim Tressel shares his "Big 10 fundamentals for success" through the stories of his football coaching career. This book provides actionable advice and measurable goals to implement with your teams.
Coach Lou Holtz provides great insight in this autobiography on leadership, and building championship cultures. This book covers his storied career from a graduate assistant to  winning national championships at Notre Dame.
Coach Pete Carroll takes readers through his journey in building championship programs at the college and NFL level. Based on the philosophy and mantra of "always compete" Pete Carroll describes his career at USC, his hardships in the NFL and ultimately his success with the Seahawks Seahawks.
In this book Jeff Erham describes how sports can transform lives. Focusing on the impact that coaches have on the lives of their players, this book is a must read for coaches at any level that want to help their players on and off the field.
Jeff Duke describes the 3 dimensions of coaching and impacting the lives of your athletes. More than  just mechanics and the game, but he describes how the best coaches reach  their  athletes hearts and minds.
---

The Hitting Vault is the most popular, most trusted and highest rated online hitting community.
It was created to teach athletes how to move their body to unlock their most powerful swing. It's designed to help coaches get optimal results from their athletes. Join and get access to over 100+ exclusive videos for members and step-by-step instruction so you'll know exactly what to do next to unlock your power at the plate.