Prepping For A College Showcase: Jason Ferber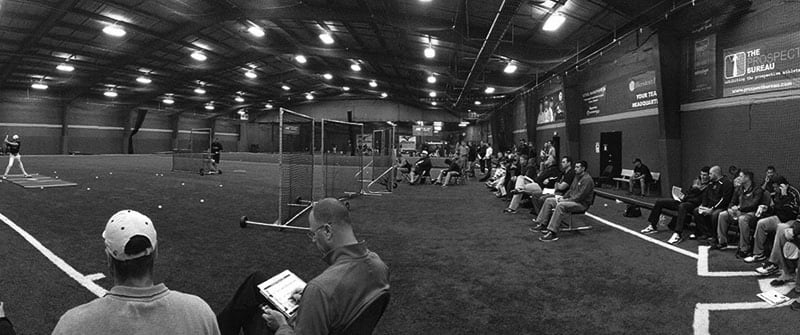 Every summer, thousands of young players attend college showcases with hopes of being noticed by college coaches and scouts. Showcases provide participants with an opportunity to display their skills before a wide range of industry professionals, but navigating them can be overwhelming for both players and parents.
One of the newest members of The Hitting Vault team, Coach Jason Ferber, shared some thoughts and tips for how to get the most out of your showcase experience.
Known as Instagram's most followed coach (with over 140,000 followers!), the Coney-Island native offers advice on what to expect, how to train, and how to conduct yourself during the recruiting process.
What are college baseball showcases?
When college recruiters set out to find the best young players in the country, they attend a baseball showcase.
These showcases create the opportunity for student athletes to show college baseball coaches what they can do, and compare themselves against other competitors. During showcases, scouts and college coaches keep a sharp eye out for natural ability, technique, discipline, and positive attitude.
For Coach Ferber, understanding what a showcase is, and the process behind it, is the first step to navigating your way through.
"It's a tool, right? It's a system," explains Ferber, comparing understanding showcases to understanding chainsaws. "As with any tool: if you know how to use the tool properly it can be effective. If you don't know how to use the tool it can be frustrating."
What should I expect at a showcase?
At a typical showcase you will be asked to run a 60-yard dash, field and throw from either the infield or the outfield position to measure your throwing velocity, and hit several rounds of BP to measure exit velocity. Don't be alarmed if coaches leave after a few minutes of watching you! They have to watch hundreds of athletes in one day, and will take notes on your skills.
College baseball showcases vs college baseball camps
Showcases are used by college coaches and scouts to be able to identify certain traits in players to get them to the next level.
College baseball camps, also known as clinics, are held over longer periods of time, anywhere from a weekend to a full week. They include instruction from coaches and are run more like practice sessions. Baseball camps are open to everyone and feature instructors and evaluators from D1, D2, D3 as well as NAIA and junior college programs.
Put simply, camps are for building your skills as a player, and showcases are a means of getting recruited by colleges.
What are the best college showcases to attend?
There are many showcases to choose from, and registration fees can run from anywhere between $100-$1,000. It's vital that you do your research and pick the best showcase for the schools that you are interested in.
Talk to your coaches and decide on which schools you should be looking at. For example, as an upperclassman, important questions to ask yourself might be:
Is the program recruiting for my position in their grad year?
How many players is the school looking to bring in for my position in their graduating class?
Do I have an interest in the program?
Do I legitimately see myself playing for that college?
Remember that coaches will be looking for starters and bench players. They are interested in players who will enhance their team, show a growth mindset, and express a genuine interest in their program.
Contact the organizers of the showcase and ask them for a list of everyone who will be attending. All reputable showcases will provide you with this. Make sure that several of the colleges you are interested in will be there, so that you can be sure the showcase is worth your time and money.
What should I do before the showcase?
One of the reasons players may not feel prepared for a college showcase, Coach Ferber suggests, is because they're not "comfortable and confident about what they're going to experience at the event." In practice, you and your coach should break down what the different segments of the showcase are going to be.
In addition, you need to:
Identify your standout skill
For Coach Ferber, the most important thing is to recognize what skills are going to make you stand out. "College coaches have a certain set of mathematics," he explains. Do your research. "There are numbers out there that determine when a player projects to a certain level. For instance, if you're a corner infielder, or a catcher…and you're looking to have exposure to the college level, typically the 60 times for those players — corner infielders or catchers — are about a 7, 7.1, 7.2."
Ensure your skills are up to the minimum standard for notice from college recruiters, and focus on what you can emphasize.
Tell recruiters who you are
About a week before the showcase, reach out to your target schools. Let them know that you are interested in their program, and that you will be attending the showcase. Give them some clear details on how they will be able to recognize you, such as your game times, the colors you will wear, and the number of your uniform.
How can I set myself up for success on the day of the showcase?
With so much preparation involved in a showcase, it is easy to forget the simple steps that you can do to optimize your performance levels, and make you a desirable candidate for college recruiters.
Health and nutrition
Make sure that you are well rested. Don't do anything too strenuous in terms of practice the day before the showcase, and get a good night of sleep. In the morning eat a light breakfast, such as fruit and a plain bagel. Pack water, sports drinks, and snacks in a cooler to take with you. And make sure to stay hydrated throughout the day!
What to wear
College scouts and coaches will see a large number of potential players for their teams during the showcase, so it is important that you are easily recognizable. Wear a shirt with your name on the back. Check that your uniform is clean and presentable, and that you are properly dressed before you go out onto the field.
Professional conduct
Think of a college showcase as a job interview and arrive at the showcase early. This will give you time to settle and stretch, and will show everyone present that you are ready to work.
Be respectful of everyone involved in the event, make eye contact when you are being spoken to, and thank everyone for their time at the end. These fundamentals will demonstrate your willingness to be a team player. And you never know who you may be working with in the future!
Is there anything I should do after the showcase?
In an ideal world, after the showcase you'll be contacted directly by the coaches from your top choice of colleges. However, there are ways in which you can be proactive. Follow up with the schools on your list and ask them if they were able to see you play. Remind them that you are interested in their program and ask if there is anything else you can send them.
If a coach or recruiter reaches out to you first, be sure to ask where they saw you play and what impressions they had of you. Occasionally you might be contacted by someone who is not telling the truth, and this will help you to avoid any scams.
Do's and Don'ts
Don't do things by trial and error when training for a showcase. This will be very time-consuming and frustrating. Make a plan and focus on your strengths.
Don't spend money on stats that you can get on your own, off the field. You don't need to pay someone else $500 to find out your 60 time, or how high you can vertical jump.
Do your research. Though you may wish to try for the best schools, you may also be prioritizing where the school is located, or what you know about their program. Googling "best in the U.S. showcase" may be an obvious start, but you ultimately want to ensure that you are targeting schools with programs that excite you.
Do remember that your behavior at the showcase is a reflection of who you are as a student and player. Always be professional.
Preparation is key
If you haven't already, watch the above video to hear more from Coach Jason Ferber, an extraordinarily knowledgeable and charismatic coach — and the newest member of The Hitting Vault team — for more of his advice on preparing for a showcase.
When you take your future in baseball seriously, preparing for a college showcase should be a thrilling, important step toward your next goals.
For more help in developing a masterful, powerful swing that will stand out to recruiters, consider signing up for The Hitting Vault's membership.
You'll unlock hundreds of training videos, get insights from elite industry coaches, and finally reach your full batting potential.