Product Spotlight: Blast Motion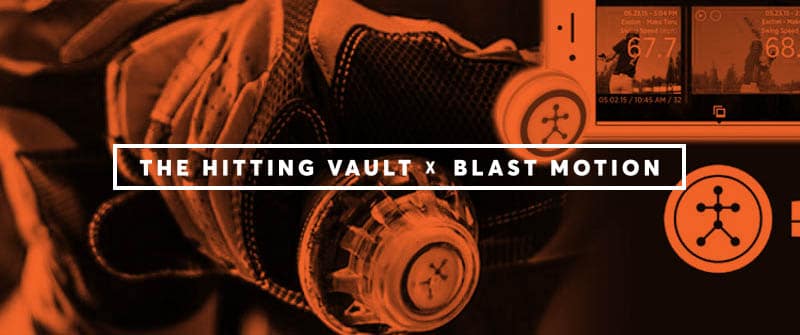 At The Hitting Vault, we frequently get asked about the best products to use to start capturing data on our swings. There are currently several products available on the market to analyze your baseball or softball swing and provide the data you need to get better. One of our favorites is Blast Motion.
FREE 1 Hour Coaching Clinic w/ MLB Hitting Coach
Watch Clinic Now
Blast Motion, Diamond Kinetics, Garmin and Zepp (now defunct) are a few of the most popular swing analyzers out on the market right now. Capturing data and analytics on your swing is important, it's critical that you don't overlook the foundational elements of a powerful swing. When the mechanics of your swing are in a good spot, you'll see the metrics on your swing analyzer improve… and ultimately hit for more power!
If you're just getting started, check out our post on baseball hitting drills for beginners to get a better idea of our approach to teaching the swing, and a few hitting drills that can help get your mechanics in a good place.
Once you're ready to start measuring and analyzing the data on your swing, we recommend using a swing analyzer tool like Blast Motion to get some baseline metrics on your swing and start working on The Hitting Drills in The Vault to improve on those metrics.
The Hitting Vault Interview with Blast Promotion
Alexa Peterson, a hitting coach for The Hitting Vault who also does many of our swing analyses for current members, happens to know one of the key account managers at Blast Motion. Brett Thomas, former baseball player at the University of Oregon, agreed to an interview with Alexa to tell our members what Blast Motion is all about as well as about some advice from his college baseball experience.
In a nutshell, what is Blast Motion?
"At a high level, Blast motion is a mobile, high functioning player development tool & solution. The three components of the solution are the sensor that goes on the end of the bat, the free app that displays the pre-impact information, and a website that will provide advanced insights for players and coaches."
Related reading: What's in The Hitting Vault?
What is Blast Vision?
"Blast Vision is a mobile app that captures the launch angle, exit velocity, and estimated distance of a hitter's swing."
What are some of the metrics that Blast Motion can measure?
"Only some!? We have metrics like bat speed, time to contact, and attack angle. We also have premium metrics such as On-Plane Efficiency, Connection at Impact, and Rotational Acceleration."
How did you create "goals" for each Metric?
"At Blast Motion have captured A TON of data from every level of play. We then established where the common ranges were for each metric based on the players level of play. We wanted to give the players and coaches an idea of what to strive for, and what other players at their level are getting."
At what age would you recommend kids start using the Blast Motion Sensor?
"What's cool about Blast is there's a way you can use it at any age. Younger players love to look at their bat speed and older players love on-plane. I'd recommend right around the age of 9."
Are there any top baseball or softball programs that currently use Blast Motion?
"Yes! On the baseball side we have the University of Arizona, Cal State Fullerton, Oregon State University (National Champs), University of Washington, and University of Iowa. On the softball side we work with The University of Oklahoma, University of Washington, University of Florida, University of Arizona, and LSU. All together we have well over 100 colleges using Blast."
How much does Blast Motion cost?
"Sensors cost $149.95 and a yearlong subscription is $59.95. We also have team packages that make it affordable for all teams!"

You played baseball at the University of Oregon. What factors did you take into account when deciding on which college to attend?
"I did. I wanted to go to a school that focused on making their players better as much off the field as they do on the field. A family atmosphere was extremely important to me. I also wanted to help build a program that hadn't been around for 28 years."
You led the Ducks in hitting your sophomore year, what were some of the mental processes that you went through from at-bat to at-bat, series to series? How did you stay mentally tough during times of failure?
"It was all about controlling the controllables for me. I really needed to focus on that specific pitch and not get too ahead of myself. I stayed mentally tough by staying in my routine if I was swinging well or if I was swinging poorly. Not letting the scoreboard or stat line dictate my mindset."
If you could go back and tell yourself one or two things prior to college or during college, what would you say?
"Prior to College – establish those good training routines. I didn't understand until I got to college what it meant to prepare.
College – be open to new ideas about the game. I used to be very "my way or the highway" and I really feel like that prolonged my learning curve."
---

The Hitting Vault is the most popular, most trusted and highest rated online hitting community.
It was created to teach athletes how to move their body to unlock their most powerful swing. It's designed to help coaches get optimal results from their athletes. Join and get access to over 100+ exclusive videos for members and step-by-step instruction so you'll know exactly how to unlock your power at the plate.